The overturning of Roe v. Wade has sparked copious debates on pregnancy prevention and sex education. Now, in particular, the recent breakthrough into the world of male contraceptives.
Research into contraceptives dates back to 1960 when the Food and Drug Administration first approved a female contraceptive. Still, a drug so quickly administered to women lacked the same confidence as the male contraceptive. Approximately 50 years since the first dabble into the male pill, and we've finally achieved it… for male mice, that is.
The latest phase one clinical trial has proposed two successful pills, the DMAU and the 11 beta-MNTDC. Their effects? A wanted reduction in hormone levels lessens sperm production. The compounds proven 99 percent effective in mice are expected to begin human trials before the end of this year.
Still, Urologist, Dr. Amin Herati expresses a concern for the drug, stating, "I would be very skeptical until I see human data."
To rely solely on current data would not suffice as humans and mice operate differently; that includes their reproductive systems. Expert on contraceptives, Dr. Christina Wang, reiterates this apprehension, expressing, "You really don't know what they do unless you do toxicology studies." The lack of human data suggests a long journey until an effective pill is indeed administered. This continued analysis of male contraceptives is a step in the right direction as the drug becomes an option for any sexually active counterpart.
Even if Effective, would Males Take the Pill?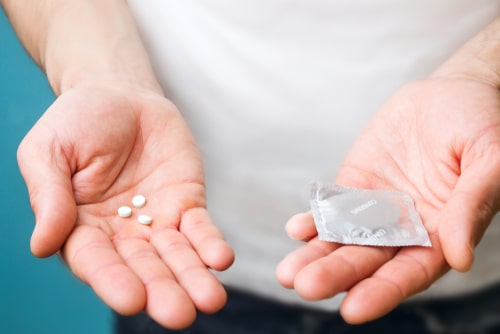 The demand for the pill increases yearly, with one poll showing that 50 percent of men would be open to trying the method. Huffington Post's recent inquiry into the lives of eight diverse men suggests a handful of perspectives.
"How how likely would you be to use hormonal birth control?"
I have a terrible memory, I forget my pills all the time. So if it was a pill, I wouldn't even bother.

– Jonathan, Northern Alberta, Canada
"You said you'd take birth control if it was tested and approved. What if there were side effects?"
I would certainly be wary of the side effects, but I couldn't ask my partner to do something that I wouldn't do myself.

– Matthew, Los Angeles, The United States
The media's reaction to the male contraceptive pill remains varied. One user tweeted,
Vasectomies aren't usually really reversible, especially after a while. That being said I do think more male contraceptives are needed
Other comments under the MaleContraceptive hashtag on Twitter were not as keen on the idea.
I'm sure that won't harm their fertility or cause lots of new male illnesses the way the female contraceptive pill does…
The release of the male pill has become subject to a 'when' rather than a 'what if' matter. Indeed, its timeline of administration is the true point of question. When available will it be purchasable or obtainable over the counter? Will it be encouraged by doctors?
Regardless, the DMAU's progressive study turns a page into newer territories and its reception is sure to bring more discussions.
Interested in this topic? Here's another story you might be interested in.