"Every time a paper straw begins to dissolve into my drink, I think about how Kylie Jenner uses a private jet for 3 min flights and I get mind numbingly angry."

–Maddie@maddiemevans Twitter
17 minutes is how long one of Kylie Jenner's recent private jet flights lasts, according to Twitter account @CelebJets, which tracks celebrity flights. Three days later, the 24-year-old socialite and model posted an Instagram photo of herself and Travis Scott posing in front of their private jets with the caption — "you wanna take mine or yours?" which infuriated the internet immediately. Further research into CelebJets records shows that Jenner routinely uses her private jet for trips that are under 15 minutes.
Two weeks later, sustainability marketing firm Yard published a report on celebrities with the worst private jet carbon emissions. Jenner, surprisingly, only ranks 19th on the list. According to the report, the top celebrity private jet owners average 3376.64 tonnes of CO2 emissions in 2022, which equals 482.37 times more than the average person's annual emission.
Taylor Swift has topped the list with 170 flights and 22,923 minutes in the air. Her total flight emission for the year – 8,293.54 tonnes – are "1,184.8 times more than an average person's total annual emissions".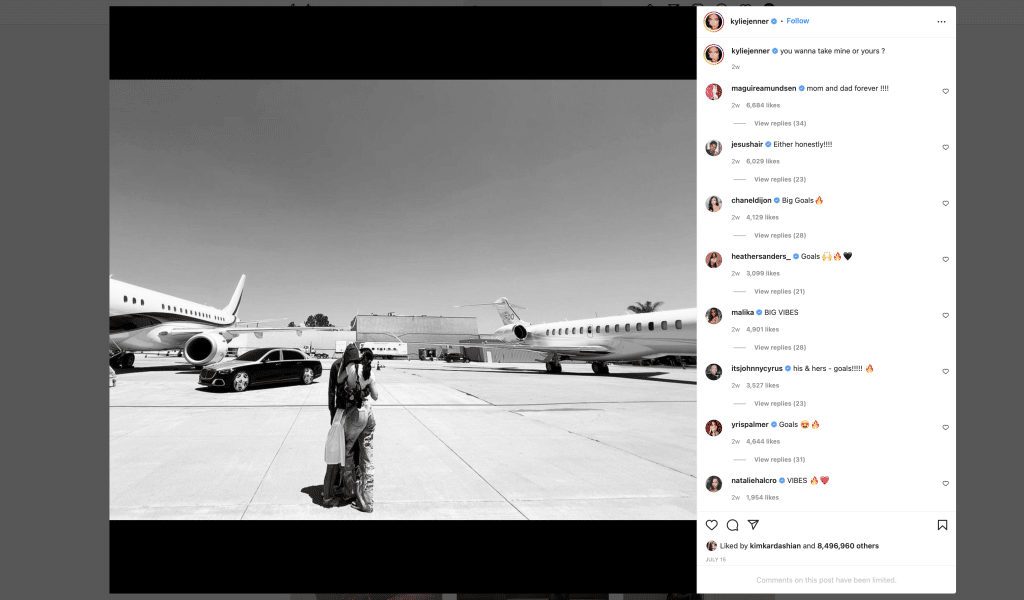 Surprisingly…
On August 1, Newsweek further reveals that a few on the top 10 list, including Taylor Swift, Oprah Winfrey, and Steven Spielberg, are also known for being long-time advocate of fighting climate change. "Swift's lyrics frequently reference nature, and she has been a public advocate for many environmental causes…Winfrey has frequently shown her support for the environment by promoting climate change activists on her shows…."
"I'm terrified of global warming," said Spielberg during a 2018 promotional interview. "Global warming is a scientific reality. It's not a political trick. It's not a political trick. It's a true piece of real, measurable, quantifiable science."
Meanwhile, a temperature of 40.3 degrees celsius was reported in east England on July 19, the highest ever recorded in the UK. With heatwaves sweeping across most of the Northern hemisphere, the irresponsibility and hypocrisy of those wealthy and famous have angered many. Those on the Yard's list have been called out as "climate criminals" on Social Media.
Unsurprisingly…
Taylor Swift's representative responded with a statement after the public uproar: "Taylor's jet is loaned out regularly to other individuals," he claims, "To attribute most or all of these trips to her is blatantly incorrect." But fans have found the excuse absurd and lacking accountability.
The comment section on BuzzFeed, where the statement was initially published, soon filled up with angry comments demanding responsibility-taking. "So far I've heard a lot of excuses from these celebrities…has anyone mentioned they are going to make some changes?" says Jdyeria.
"It's a bit like being told to turn your lights off or turn the heating down in winter, and basically make life uncomfortable when every single store has their lights on 24/7 even when closed, the celebs fly wherever they want, people drive wherever they want because they're too lazy to walk half a mile. It's easier to control the plebs. The line 'we're all in it together is a lie", commented Redditor ASK_IF_IM_PENGUIN.
The Digital Sustainability Director of the Yard, Chris Butterworth, shared his thoughts on the issue:
"It's easy to get lost in the dazzling lives of the rich and famous, but unfortunately, they're a massive part of the CO2e problem we have with the aviation industry…Tackling climate change is one of the most urgent and pressing challenges that we face. It's understandably frustrating when most of the population does their bit to lower their personal CO2e…."