This year marks Florida's 9th annual Python Challenge, hosted by Florida Fish and Wildlife Conservation Committee every year since 2013 in an attempt to curb the invasive pythons' reign throughout South Florida's precious and delicate ecosystem.
Opening on August 5, 2022, at 8:00 AM EST, the python-killing competition runs until 5:00 PM on August 14, 2022. Participants may register on the Florida Python Challenge website, after completing an online training course and paying a $25 registration fee. As of the first day of the challenge, over 850 people had registered.
Whichever hunter kills and retrieves the most pythons wins a whopping $2,500 USD.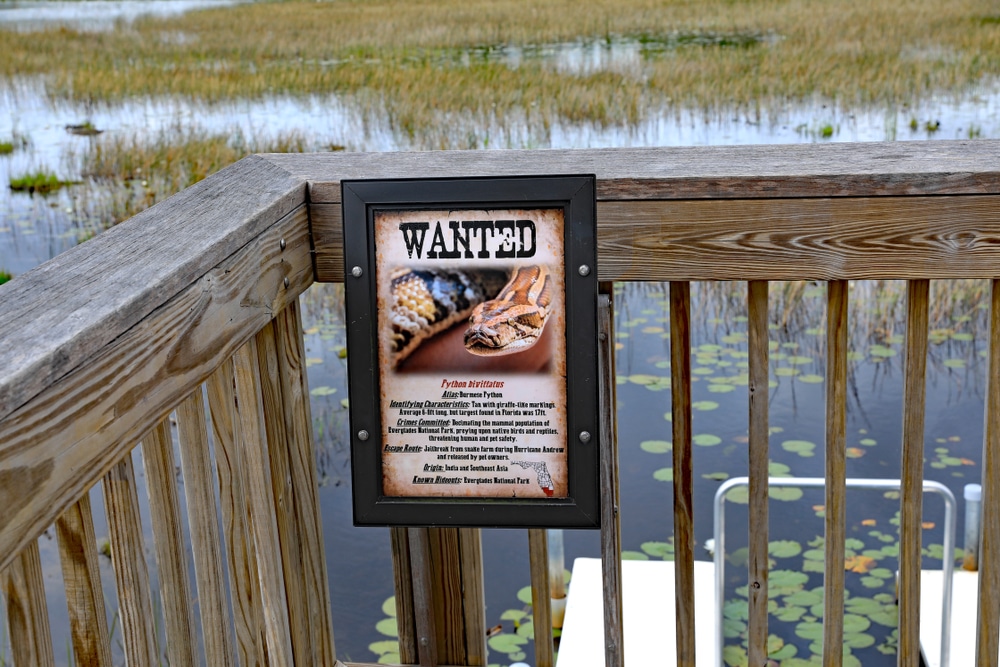 The Florida Everglades are home to a vast array of unique plants and animals, from native birds to manatees, and even alligators. The invasive Burmese python, however, is threatening this ecosystem, consuming native wildlife with a seemingly insatiable appetite.
The pythons first entered the ecosystem in 1979 due to the international pet trade, when over 9,000 Burmese pythons entered the United States. In the following years, many snakes accidentally escaped or were intentionally released into the wild. Since then, there has been a 90% decline in South Florida wildlife. Racoon sightings are down 99.3%, and opossum sightings are down 98.9%.
According to biologist Michael Kirkland, these pythons have been "decimating wildlife for years." Kirkland works with South Florida Water Management District and helps with the year-round efforts to expel pythons from the region.
"The challenge is designed to remove as many pythons from the area as possible," Kirkland noted. "Human detection and removal are the most efficient and effective tools in the toolbox right now."
In addition to this yearly 10-day challenge, Florida's Water Management District employs special contractors throughout the year to continue the task. Since efforts to remove pythons from the South Florida region were initiated in 2000, more than 17,000 snakes have been killed or extracted.
In fact, in response to the python reign, snake-killing has become a profession. Many consider reptile hunting their full-time job. Donna Kalil has been hunting with the South Florida Water Management District since 2017, and hunting pythons since the challenge's origin in 2013. Last year, Kalil took home first place, killing 19 pythons in the 10 days. Throughout her career, Kalil has killed over 670 snakes.
Florida native, Kalil described how she has watched the landscape wither away before her eyes. In her childhood, Kalil reported seeing hundreds of rabbits, raccoons, possums, deer, and foxes bouncing through the grass. Now when Kalil goes out, she is lucky if she sees even one mammal.
Another professional python hunter Amy Siewe is closing in on 400 kills since her hire in 2019, bringing the duos kill total to over 1,000 pythons. Siewe acknowledges the difficulty of the task: "I love snakes. I hate that we have to do this, but they're invasive and changing the entire ecosystem." The so-called "Python Huntress" documents her python hunting on her YouTube channel.
She continues: "The hunters are the best way we have at this moment to help with this problem." The first year Siewe participated, she won second place for the heaviest snake. Siewe reported her largest snake was 17 feet long, and 110lbs.
The Burmese python is one of the largest species of snakes on Earth. These pythons are native to Southeast Asia, where the species is on IUCN's Vulnerable Species List (International Union for Conservation of Nature). These pythons are non-venomous snakes. With no natural predators in Florida, the snake often grows up to 18 feet long, as opposed to its average length of 16 feet in its indigenous environment. It can lay and hatch 100 eggs at a time, making the species' growth expotentially dangerous.
Interested in reading more about the latest in scientific developments? Click here to read about the potential future of male contraceptives.